Dust Free Sanding with Mirka Ceros
Actionline Decorating LTD use experienced staff, specializing in all aspects of exterior painting and interior decorating work throughout, Devon, Dorset and Somerset covering the South West of England.
Using the latest Mirka Ceros dust free extraction system, we are able to carry out sanding works virtually dust free.
With Abranet®, Mirka has succeeded with something where many others have previously failed – to develop a completely even sanding net. A sanding net with thousands of holes provides a phenomenal dust extraction. The maximum distance from each sanding particle to the closest dust extraction hole is 0.5 mm!
Abranet's clever construction provides many advantages. Because the dust is being continuously sucked away, sanding is virtually dust free. Tests have shown that the dust release from Abranet® is only minuscule when compared to the dust released from traditional abrasives with dust extraction.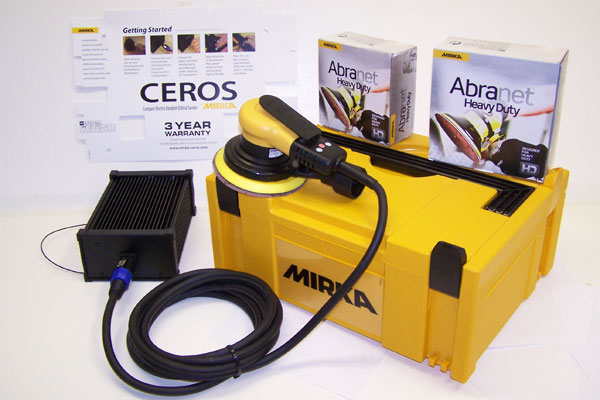 When the abrasive and the sanding surface are constantly kept dust free, the lifespan of the abrasive is extended. Since the abrasive maintains its aggressive properties over the entire surface, sanding becomes more even and efficient. The sanding result will also be better. Since it is always possible to see what is being sanded, there will be a completely different control over the work, meaning that over-sanding, for example, can be avoided.
Additionally, Abranet® will solve many old dull problems, such as the formation of so-called "dust pills" and clogging. Since dust can no longer collect in lumps on the sanding discs/strips to the same extent, there is no longer a danger that sanded dust will build up and create grooves on the sanding surface, or fill up the disc/strip and so reduce its sanding capacity. No wonder everyone chooses Abranet®!